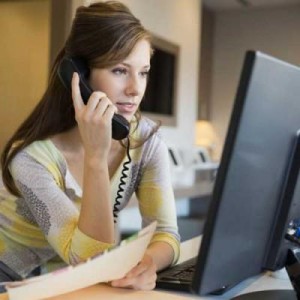 Earn Money From Home
There are plenty of ways to make money with skills and interests that you already have, you just need to know where to look.
Our work-from-home job guide is full of potential jobs that work around your schedule and let you earn extra dollars from pretty much anywhere! Based on your personality and strengths, read on to find out what type of job best suits you.
***
If you love writing
Many websites need part-time writers. Examiner.com pays people to write reviews for restaurants, shops, parks and concerts in their area.
If reviews aren't quite your thing, ProBlogger has listings of sites that are willing to pay semi-professional writers. Over time, good writers have found this sort of freelancing can be quite lucrative. Every website has a different application process, so log on and get paid.
New tech products are hitting the market every second, and someone needs to explain how they work in plain English. Technical writers put together operating instructions, how-to manuals and FAQ pages for consumers. Consider joining the Society for Technical Communication, which provides educational webinars and a job listing board to members.
***
f you are artistic
There are plenty of sites to let your arty side shine and make some money in the process.
Etsy.com is a virtual marketplace where the craftier among us can sell their wares to shoppers from all over the world for a percent transaction fee.
Café Press allows you to design and sell your own graphic T-shirts, mugs and other printables from home for the cost of materials.
If you love to communicate visually and have fashioned your own great business logo or website, graphic design could be for you. Potential clients are likely to be most interested in your portfolio. Have you designed a school poster? Put together a brochure for a nonprofit? Showcase your skills by creating a website and uploading images of your work. (Skilledup.com offers a range of classes—some for free—on website creation and graphic design.) Look for job postings on aiga.org and on more general job boards such as indeed.com, monster.com and simplyhired.com.
***
If you are organized and efficient
Be an administrative assistant. Often business owners can save money by hiring independent contacts to perform tasks such as data entry, transcription and scheduling out of a home office.
Go to virtualassistantjobs.com to find out more. Or register with an agency such as eaHelp.com or Zirtual.com, which assign clients to you.
***
If you love trying the newest products
If you always have to have the newest items that hit the shelves, and can't wait to talk about it with your friends, you can turn your passion into profit. Companies want your input on their new products and will reward you for giving it with discounts, freebies and more. Check out the following sites to find out how to become a product tester:
***
If you are great with kids
Running a home day-care center could be for you. While very fulfilling, childcare is a big undertaking. You're responsible for the kid's health and safety, and you will have to prepare meals, teach lessons and plan art projects. Before you begin, ask yourself the following:
Do you have enough space?
Will you need staff?
Can you cover start-up costs?
***
If you are a shutterbug
Companies need images of everyday objects and concepts for Web sites, blogs, brochures and other projects. Go out with your camera, shoot some pictures and upload them to a stock photo site. You earn money when a company buys them. Each site works differently, be sure to do research before you commit.
***
If you are a packrat
Do a little spring-cleaning and put some extra cash in your pocket by selling just about anything. Whether you choose the busiest e-commerce site on the Web, eBay, or the preferred site for selling books and DVDs, Amazon.com, it's easy and fun!
***
If you are a know-it-all
Sites will pay for information; all you need is a fast Internet connection. ChaCha.com guides can earn $3 to $9 an hour for researching the answers to obscure questions.
If you are more of an expert in a certain area, you can answers other people's questions on liveperson.com, a site that offers everything from style tips to homework help. Once you are approved, you set your own fee for answers. The more questions you tackle, the more you earn.
***
If you are a good communicator
Many businesses, such as JetBlue Airways, recruit hires from staffing companies to work from home as customer-service agents. You can often make your own schedule, working when it's convenient for you.
***
If you are outgoing and persuasive
Host product parties. More than 15 million people in the U.S. sell items for direct-sales companies, according to the Direct Selling Association. This isn't just restricted to the handy-reusable plasticware of yesteryear; there is likely a direct selling company for whatever your interest.
***
If you're a close listener
Electronic medical records, patient medical histories, referral letters and physical exam reports often start out as audio files that physicians and other health-care professionals have dictated into a recorder. That means someone—possibly you—is needed to convert the words into secure written files as a medical transcriptionist. Most employers want someone who will work a minimum of 20 hours per week, including some weekends. Great typing and knowledge of grammar are important, as is a solid understanding of medical terminology. Those with little or no experience can get a foot in the door by taking a self-paced, online course on medical terminology and documentation methods, such as the one offered for $50 at universalclass.com.
***
If you're passionate about taking care of people
Medical case managers evaluate clients' health, record family histories, make referrals to doctors, set up home care and specialist visits, serve as advocates for clients and document patient progress. Those hiring include care coordination agencies, health insurers and workers' comp and disability management companies. Off-site case managers (also called telephonic case managers) typically have an RN degree and a strong clinical background. Most of the job is conducted over the phone during business hours. Plan to log about 20 hours per week, at $20-$29 an hour.
Visit glassdoor.com and other major job sources, as well as specialty websites such as healthcareers.com. Also check out the sites of health-care providers.
***
If you're good at managing money
Keeping a company's books could be the thing for you. Every small business needs an able bookkeeper to track accounts receivable and expenditures. Cloud-based platforms such as FreshBooks, QuickBooks and Xero make it easier than ever to work with clients' financial information remotely from your home office. You'll need strong knowledge of basic math and a willingness to learn accounting software. There are several free accounting programs, including TurboCash and Wave. Or go with a paid service such as QuickBooks, which costs as little as $13 per month but is widely used and comes with a variety of support tools.
List your services on free websites such as odesk.com and elance.com, which specialize in work for independent contractors and freelancers. Create a profile, then submit job proposals to potential clients. Elance adds an 8.75 percent charge to your rate; oDesk takes 10 percent of your agreed-upon fee. Set rates low and raise them once you have earned great reviews.
***
Protect yourself
Follow these tips to figure out if a business is legitimate.
1. Avoid any company that asks you to pay for instructions or products before it explains the plan.
2. Watch out for pyramid schemes.
3. Read the fine print. Before getting started, read the site's terms of use.
4. Do research. Go on to the Better Business Bureau to see if the BBB has accredited the organization of if anyone has lodged a complaint against it.
Via: allyou.com